Lindsey's interest in identity came from mentoring in the corporate world. In addition to mentoring her own teams, she was frequently asked to work with people who were having problems in the workplace. It was noticed that supposedly "difficult" people were getting better outcomes around job satisfaction, achievement and promotion.
Wanting to understand why what she was doing worked, she studied part-time for a psychology degree and graduated with First Class Honours. She also gained a Level 7 Diploma in Management and Leadership, and was granted CMI Chartered Manager status. At this point, she realised that her work made an impact because it was based around identity – who people were and how they saw themselves – rather than around specific beliefs, emotions or behaviours. But she still hadn't found the answer to why her identity work was leading to positive change, and the research she needed didn't seem to exist. She made the decision to do a PhD, and do the research herself.
Lindsey's now in the final year of her PhD, and specialises in the impact of identity on mental health, specifically anxiety, depression and hypomania. Her main focus is aspects of identity that impact wellbeing: self-concept clarity (knowing exactly who you are, having beliefs about yourself that are not conflicting, and being able to define these clearly and consistently over a period of time), self-esteem (the degree to which your attitude to yourself is favourable or unfavourable) and tolerance of uncertainty (the degree to which you're able to cope with risk and change, and think clearly in unpredictable situations). Her latest research looked at how these factors affect mental health outcomes in those who've had difficult or traumatic childhoods, and how they impact wellbeing in the face of current ongoing stress.
Lindsey's aim is to contribute to the field of psychology by increasing understanding of identity-related factors that can be incorporated into interventions to improve wellbeing, and to inform her own training work to help small business owners improve their likelihood of success through start-up and growth.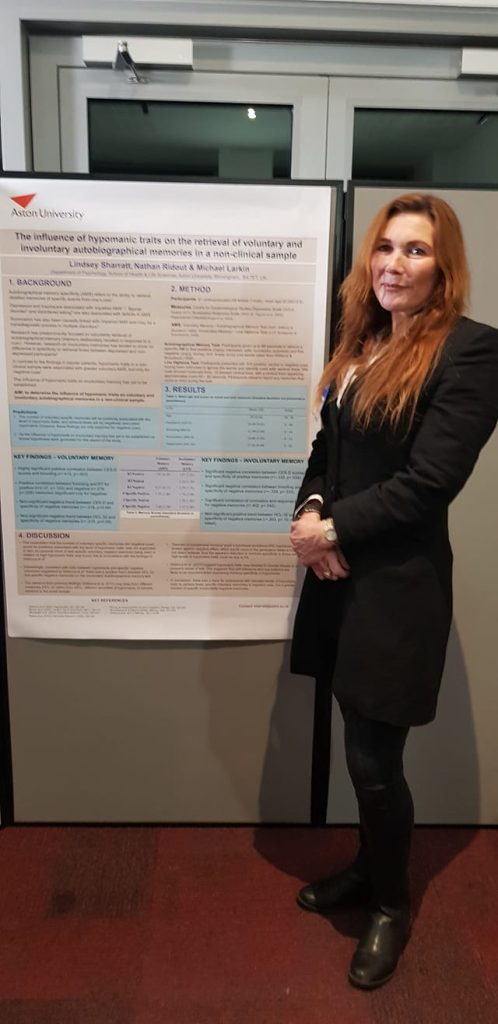 Conference on Autobiographical Memory and Psychopathology, University of Cambridge, 2019